Baileys Caramel Chocolate Truffles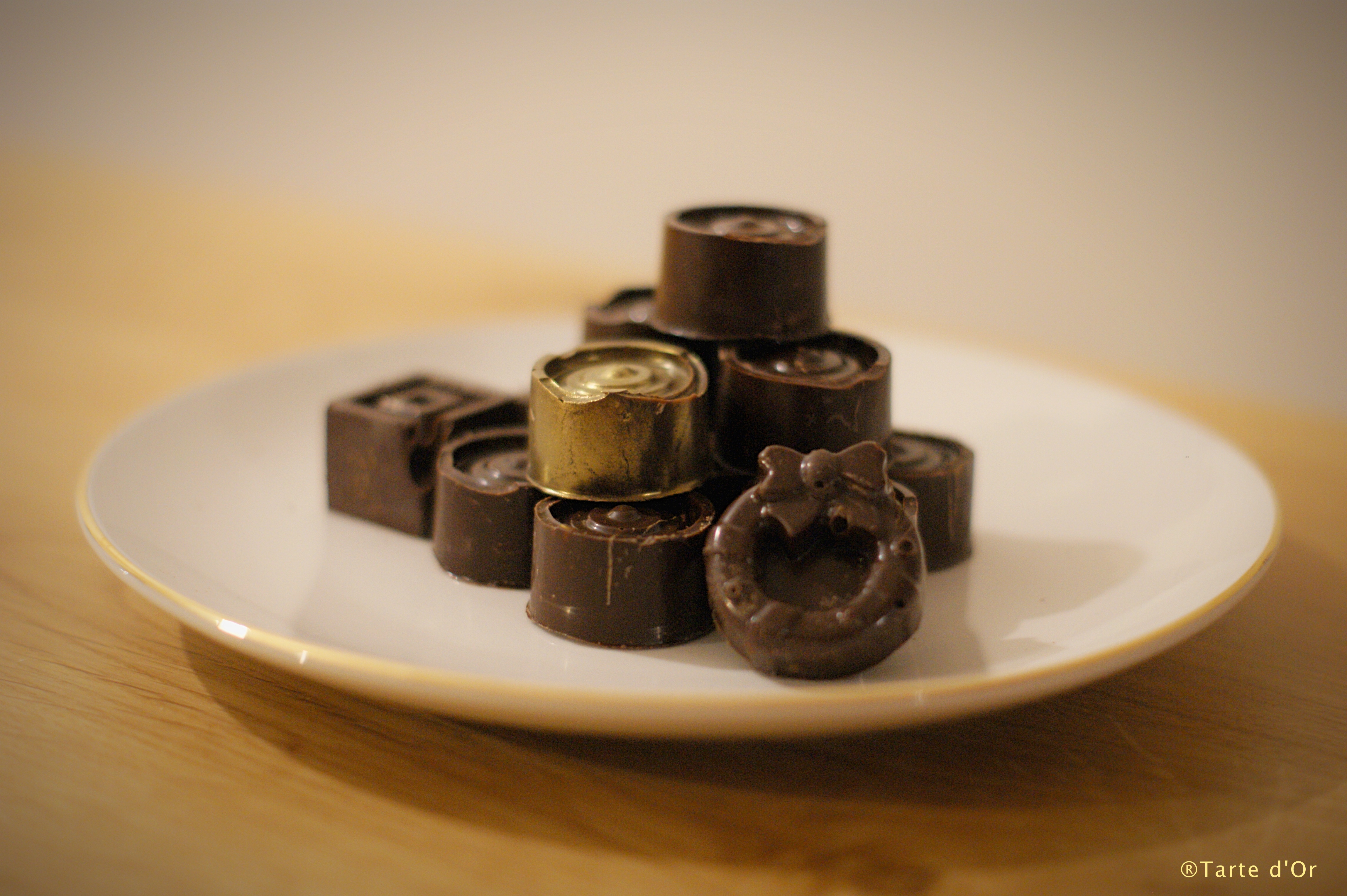 I hope you all had a nice time during Christmas holidays. This year, I decided to try to make my own chocolate bonbons and avoid all these yet delicious but full of bad unhealthy ingredients chocolates you find at the supermarket. This recipe had caught my eyes many months ago on Pinterest and I was really surprised to discover how easy those truffles are to make. The most important and delicate part is to temper the chocolate but it is way easier than I thought. You can find plenty of videos on Youtube on how to do that. 
Ingredients : (yes, only 4 :-)…)
250 g milk chocolate

300 g dark chocolate

60 g butter

35 g Baileys salted caramel irish cream
First, prepare the filling by melting the milk chocolate in a bowl placed on a pan with simmering water. 
Cut the butter in small pieces in another bowl and pour the melted chocolate on top. Mix with a whisk until everything is smooth and without any lumps. Add the Baileys and mix well again. if the texture of the chocolate changes and looks grainy, it's normal.  Leave it cool down at room temperature. 
Then prepare the chocolate shelves : melt 80% of the dark chocolate in a stainless steel bowl placed on the pan with simmering water until it reaches a temperature of 45˚C.  If you use a glass bowl, the temperature will keep getting higher after removing the bowl from the heat and tempering the chocolate will be more difficult. 
Add the 20% remaining and stir well until all the pieces are melted. Keep stirring until the chocolate reaches a temperature of approximatively 30˚.
Pour the chocolate in moulds (I used silicon ones), then turn it upside down above the bowl so that the excess of chocolate comes out. Use a spatula to remove the excess that doesn't fall on its own. You just want the inside of the  moulds to be cover with chocolate. 
It should set at room temperature in 15-20 min. If the chocolate is still liquid, it means it is not tempered and you need to start again. 
Once the chocolate has set, fill the moulds with the filling you first prepared. then pour some more tempered chocolate to close the bonbons. Let it set again at room temperature. 
Remove the truffles delicately from the moulds. You can store them at room temperature for as long as you can resist eating them all.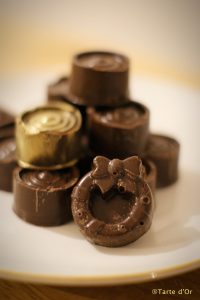 Bon appétit ! 
---
---