Mini Brioches (Ladurée Recipe)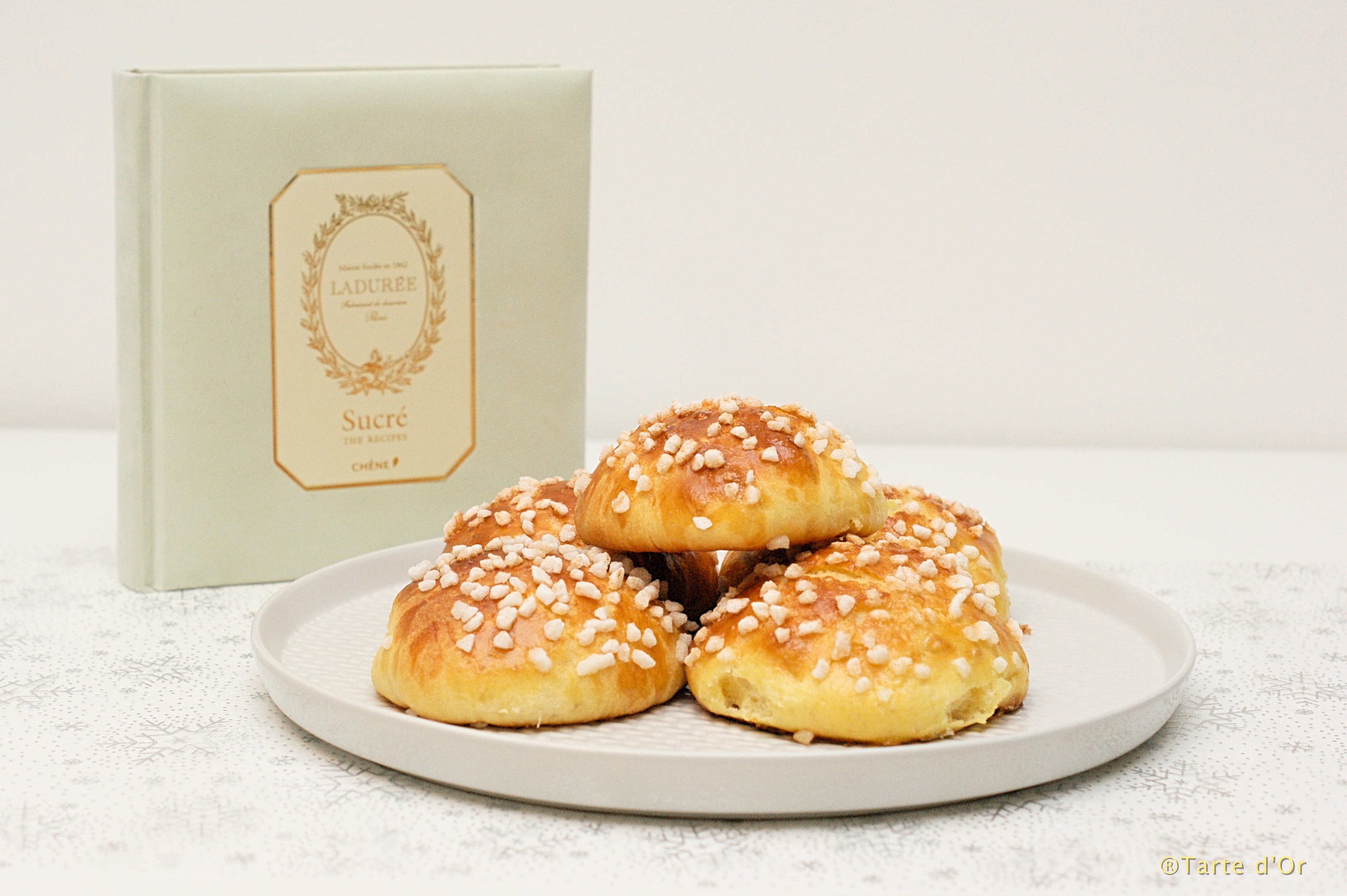 When you say "Ladurée", everybody thinks about their delicious macarons. Well, guess what? macarons are like the emerging part of the iceberg. If you go to Paris or any other city where Ladurée has a shop or tea room, you'll see they have many other delicious pastries. Last time I went there, I tried the "Chocolat-Sarrasin" (sarrasin means buckwheat) from their pastry chef Claire Heitzler and the Pistache Saint-Honoré. It was sooooo goooooood… Dutch people would say, it was like "angels peeing on your tongue" which means it was really delicious.
So I could not resist buying their recipes book and here is the first recipe I tried : the Mini Brioches with pearl sugar. If you want to try this recipe, be aware that it will take almost all day to make them because you have to let the dough rise three times 2 hours and 1/2.
Ingredients (for about 18 brioches) :
440 gr of flour

60 gr of sugar

7 gr of salt

15 gr of fresh yeast

6 eggs

240 gr of soft butter

100 gr of pearl sugar
Put the flour in the bowl of your kitchen robot. On one side, put the sugar, on other side the salt and somewhere in-between the yeast but it must not come in contact with the salt or the sugar. Otherwise, the yeast will lose its properties.
Cut the soft butter in pieces.
In another bowl, beat the eggs quickly. Pour 1/3 of the eggs on the flour preparation and start mixing with a spatula first and then with you kitchen robot at low speed. Add the rest of the eggs little by little. Once it starts pulling away from the bowl, you can add the butter. The original recipe says to keep mixing until the dough is again not sticking to the bowl but this happened very quickly for me and I know that you usually need to knead the dough 15-20 min to be sure the yeast is active and make the dough rise properly so I kept kneading for 15 min. 
Stop the robot and leave the dough in the bowl at room temperature for 2 and 1/2 hours. To help the dough rise, I place it next to a radiator with a damp towel placed on the radiator and on the bowl so that warm air goes more easily in the bowl. Just be careful that there is not too much air going on the dough. 
After 2 and 1/2 hours, knead the dough quickly to bring it to its initial volume. Place the bowl now in the fridge for another 2 and 1/2 hours.  Then deflate it once again. 
You can know shape the brioche as you want. 
Roll the dough in a big log and divid it in pieces of 50 gr. Then flatten each peach with your hand and fold it back on itself and form a small ball. It looks really small but it will rise again at room temperature and in the oven so don't worry.
Place the dough balls on an oven tray covered with baking paper and leave it rise at room temperature for another 2 hours and 1/2. 
Preheat the oven at 180˚C. Beat one egg in a small bowl and brush the dough with it. Be generous. Spread some pearl sugar on each of them. 
Bake for 12 to 15 min depending on your oven. 
Take it out of the oven and let it cool down a bit. I think they are better served a bit warm but you can keep them in a box and they will still be soft and fluffy  2 days after (they did not survive longer than this).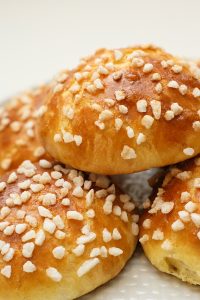 Bon appétit ! 
---
---