Pretzels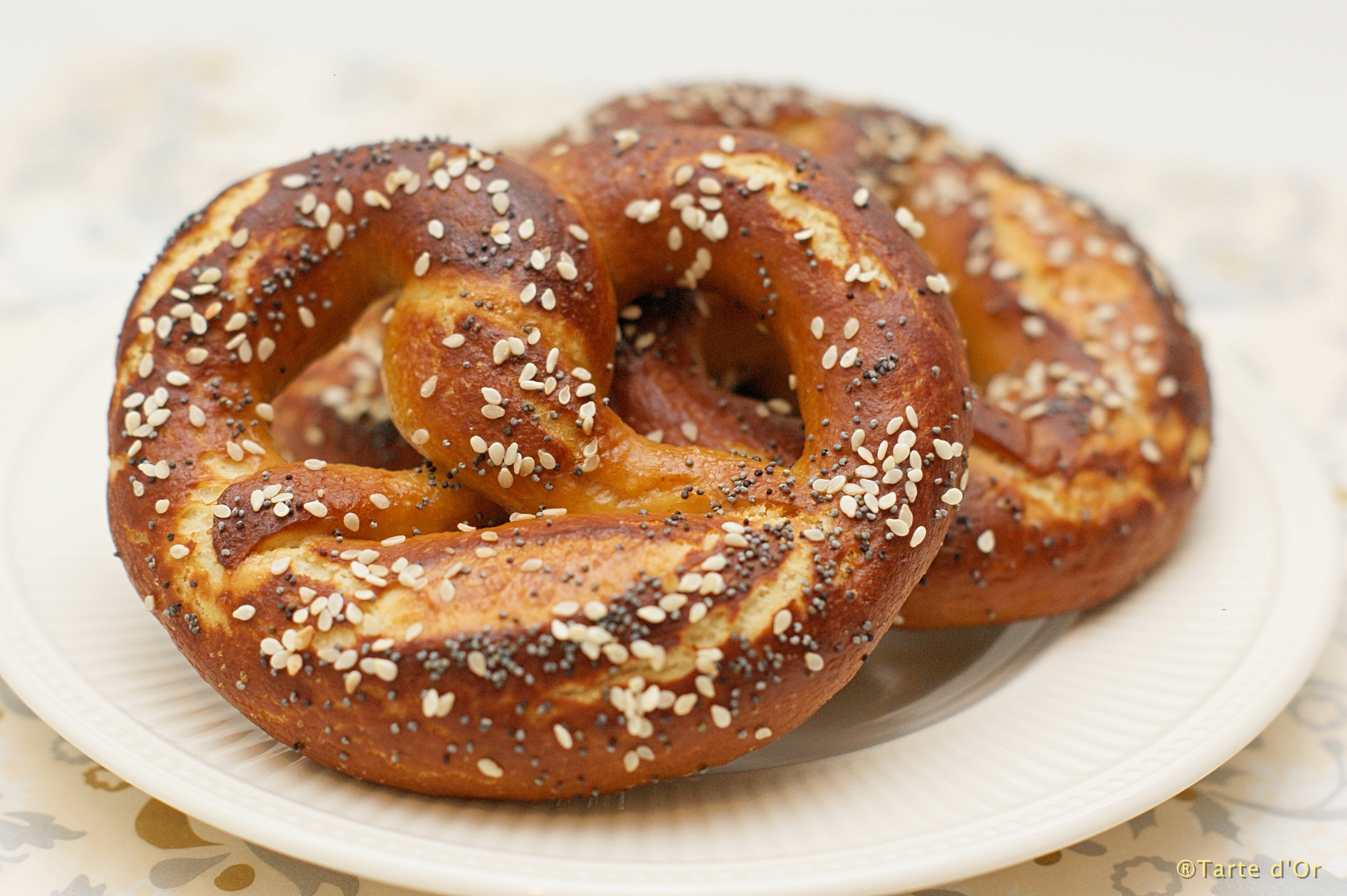 I haven't published a recipe for a while now but I haven't been lazy either. I made those delicious pretzels in last December (I know, I don't publish my recipes one after the other but you have to take some risks in life, right :)…). 
For a first attempt, I was pretty satisfied with the result. Easier and quicker than regular brioches (no need to leave the dough rise many times and no need to knead for 20 min). You have to eat them the same day though because they tend to dry quickly.
Ingredients :
500 g of flour

1 bag of dry baking yeast (7 g)

40 g of sugar

75 g of melted butter

A pinch of salt

125 ml of lukewarm milk

125 ml of lukewarm water

1 egg

8 g of salt

50 g of baking soda
Toppings : Sesam seeds, poppy seeds, sea salt… 
Mix the yeast in the lukewarm milk and water and put it aside for 15 min. 
In the bowl of your mixer, mix the flour, the pinch of salt, the sugar and the melted butter.
Add the yeast/milk/water mix and keep mixing until the dough is smooth. Cover the bowl with a kitchen towel and let it rise for one hour in a warm place (I placed the bowl next to the radiator). 
After one hour, knead the dough by hand until it gets firm but elastic without being too sticky. 
Divide the dough in small balls of 100 gr each. Roll the dough in a long band of approximatively 40 cm. Take each ends with you hands and form a loop. Crosse the ends to form the pretzels and press them on the dough. You can use a bit of water to make it stick more easily.
Repeat for each ball of dough.
Preheat the oven at 200˚C and prepare a tray with baking paper. 
Boil a big pan of water with the 8g of salt and the baking soda. 
Once the pretzels are shaped, put them one by one in the boiling water. They should first sink and then float. You can then remove them from the water and place them on the baking paper. 
Mix the egg with a spoon of water and brush the pretzels generously with this mix. Sprinkle the topping of your choice. Mine was poppy and sesame seeds. 
Bake the pretzels for 20 min until they are brown gold.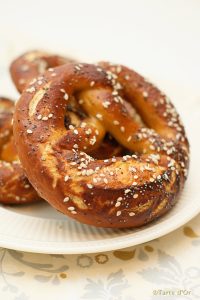 Bon appétit ! 
---
---